Airtrax omni-directional wheels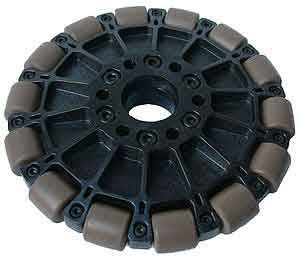 Omni wheels or poly wheels, similar to mecanum wheels, are wheels with small discs around the circumference which are perpendicular to the rolling direction.
The Mecanum wheel is one design for a wheel which can move in any direction. It is sometimes called the Ilon wheel after its Swedish inventor, Bengt Ilon, who came up with the idea in 1973 when he was an engineer with the Swedish company Mecanum AB.
The Airtrax wheels are Mecanum wheels. Each wheel is comprised of a series of rollers, mounted so that their axis of rotation is 45 to the axis of the main wheel. As the wheels rotate in sync, the vehicle moves forwards or backwards normally, but by spinning pairs of wheels in opposite directions, the rollers enable sideways movement. Put it all together, and you can move laterally, diagonally, or spin in a circle.