There is bad news from RBI to website holders;
Starting March 1st, you'll not be allowed to receive payments that exceed $500 per transaction. Also, you won't be able to keep any money in your online PayPal account – all money received into PayPal must be transferred to your Indian bank account within 7 days.

The money coming to you via PayPal is often taxable in India and unless you self-declare it or transfer it to the bank, the India tax authorities won't have a clue about it. So RBI took this step so that all paypal indian users can not steal tax.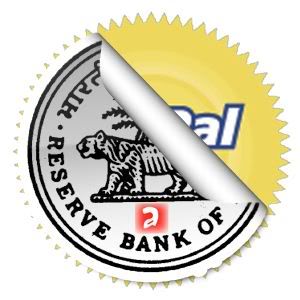 AlertPay:
Ranks 6,948, which is up nearly double from February 2008. Our top choice for the most practical alternative to eBay — a secure and fast way to pay online.
Moneybookers: Ranks 4,739. With high-ranking and 2,050+ organizations linking to it, so moneybookers.com must be popular!
RevolutionMoneyExchange: Long name, but a nice interface, and excellent viral marketing program. They give you $25 to open an account and $10 for each person you refer (up to $500). Ranks 72,666 (up from February ranking of 254,063).
TrialPay: Ranks 4,965. This payment processing solution offers shoppers free product from blue chip companies; apparently it's not viable for small end companies to take part.
OBOPAY: Ranks 169,025. Great user interface, marketing
themselves as the PayPal alternative. They pay you $10 to join! Not available to Virginia residents. Requires a mobile telephone number.
E-Gold: Ranks 5,972. This one's backed by gold (or silver, platinum or palladium)! Best of all, payment is immediate and there are no chargebacks – you get paid and stay paid!
PayMate: Ranks 918,688. Clever name for Australian site (works for New Zealanders, too.)
Allpay Ranks 1,512,487. It's the U.K.'s only payment solution that's also used throughout Europe as well as the United States.
XOOM: Ranks 25,480. This money transfer service accepts funds from major credit cards, your bank account or PayPal. Can't figure out why anyone would use PayPal to fund a XOOM money transfer.
Interac: Ranks 432,349. Available only in Canada, this e-mail money transfer transaction is like sending cash and cannot be reversed. The only thing they protect is your financial information.
checkfree: Ranks 238,281. Helps you pay bills online. This is merchant account, so you can use it on eBay, but it's not really a viable PayPal alternative.
FirePay: Ranks 439,549. With almost no user interface explaining the site, it's unwelcoming to new users.
BidPay: Still ranks 457,897. Had a loyal following, but closed operations December 31, 2007.
117
views
To book below area mail me