I never suggest using PNG images since they are bigger in size and not compatible with many browsers. Although you can fix their appearance so their transparency can persist. But sometimes they are needful for web designers. So here I am mentioning some PNG fixes as per my experience.
These fixes may fix transparency of a PNG image. But you would have to test it with various version of internet browsers like IE 5,6,7 etc, various internet browsers like chrome, Firefox, epic, IE etc. And on various platform like Mac , Windows, Linux, Mobile OS.
Testing a page against so many browsers is really a tough job. Specially when you asked to test it on various platforms. You can use one click solution for this. It'll not only save your time but money as well.
If you are wrodpress blogger then HITS- IE6 PNGFix might help you to fix PNG transparency in IE6. You may try it to other browsers as well. But author claims to fix in IE6 only.
1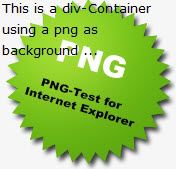 This fix, based on jquery, is ultimate. It supports all version of IE above than 5.5 (including). Click on the image for online demo and how to use guide. You can directly download it from andreaseberhard.
twinhelix PNG fix claims to fix transparency problem of any PNG file as well as ALPHA problem. It supports all the images inserted on the HTML page using < img > or background images. Click on the image to visit their demo page and how to use guide. I am not sure this fix is compatible with CSS3. But I had tested it against EPIC and firefox. And found it effective.
You can download this fix directly from twinhelix.
Please report me if you find any link broken.
PNG transparency is not only the problem for web designers. There are some more problems related to margin, floats etc. These problems always make me worry. But I have cure for margin Fix and floating fix. Please let me know if you are facing any other CSS related issue. Moreover, CSS compatibility charts can help you giving an idea about what part or browser you are missing from testing your webpage. I would like to find out more effective solutions as well as improving my knowledge.