How to download from any online file sharing service provider
This post doesn't seem very useful for people who uses internet frequently. But people who are not very computer friendly or new in this field can find this article appropriate.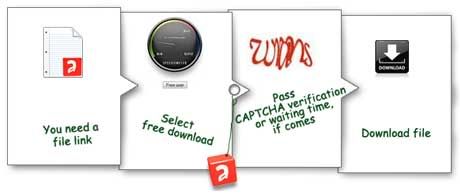 Many times you need to share your computer with your friends. So they can repair it or can teach you something. Sometimes you need to share your PC data with your friends. But sometimes you want to share data with anyone. You just want to upload files somewhere on the net. So anyone, who knows where the data is uploaded, can download it.
For this you can use any online file sharing service provider like Rapidshare, Megaupload etc.
Basically, downloading files from any file sharing site is very much similar. You'll find all below mentioned steps common for all sites.
First you need a link to download a file say;http://rapidshare.com/files/xxxxxxxxxxxxxx
All file sharing sites provide free downloading and paid downloading. Sometimes these words can be replaced with some other good name. Like regular downloading instead of free and premium instead of paid. You have to select free downloading.


Since any one can use free downloading so there is some limitation over it. For example;

You might have to enter some code to show human presence. …. This protection is named as CAPTCHA.
You may have to wait for some time before starting another download, even if your first download fails due to any reason. A counter will be displayed in this condition.
You'll not get full download speed.

Main purpose of limiting free downloading is to increase premium users. Once the counter is over or you enter the code, they displayed as image to check your presence, you will get download link. You just need to save the file on your PC.
Most of the downloadable files are compressed files. And they can be opened using WINRAR. They are compressed just to group multiple files into single and to reduce their size.
Please note this
Remember that if you don't start downloading for a long time then appeared link might be expired. And you'll have to follow all steps again.