Epic – Created by Indians for Indians
A Bangalore based start up called Hidden Reflex has made available a browser called as the "Epic Browser". Epic Browser is a Internet web browser which is based on Mozilla Firefox, which taps into several services to serve content which is useful and relevant to Indian users.
This pack comes with 1500+ applications.
Built-in Antivirus Scanner: Scan downloads automatically. Scan your system manually. Free.
Malicious Website Warnings: We'll warn you if you're about to visit a website known to host viruses or malware.
Anti-Phishing Protection: A big, bolded domain so you know if you're at citibank.com or citiphishingsite.com.
People who likes privacy, will also like it because
One-Click Private Data Deletion.
One-Click Private Browsing.
Flash Cookie Deletion built-in.
No Browsing Reports. Epic doesn't store your browsing or search data. Ever.
Epic fulfill all your small needs. It provides many inbuilt
widget
like orkut, gmail, twitter. Now you need not to interrupt your browsing. Keep surfing while chatting friends.
India
is rocking……..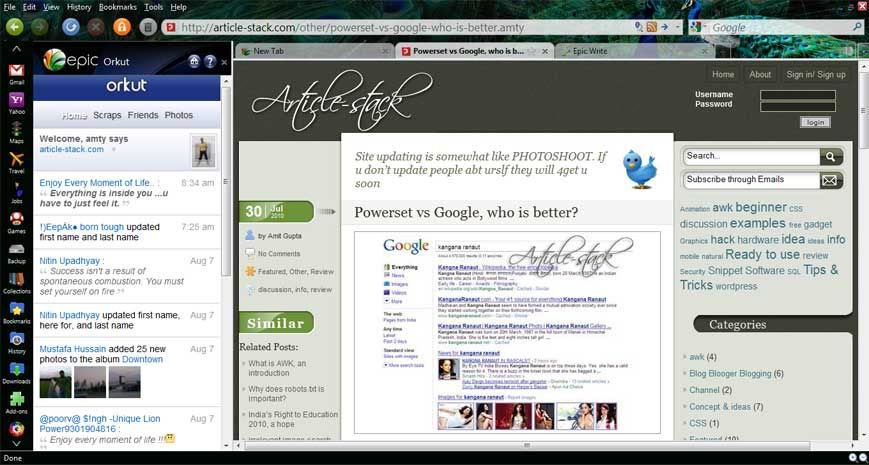 Some features that will make you use EPIC
Customizable: 1000+ skins and also you can choose from over personals
Watch NDTV 24X7, NDTV ?????? and NDTV profit online without any streaming problems
Indic typing with the integration of Google transliterate
Anti-Virus protection for both your computer and downloads optional
Write: Create a word document and save it as a HTML file
Snippets: Useful for taking screen shots of web pages – either select certain image or a paragraph and drag-and-drop it to the snippet sidebar or take a complete screen shot of a web page
Cricket news and live scores
Regional News, Events and financial events
Daily masti – Jokes, quotes and gyaan of the day
Epic video – Watch videos from youtube right on the sidebar
My computer - Browse your computer directly from the browser; You can open upto 5 tabs in the Computer sidebar
Social networks, E-mail accounts and Twitter in sidebar
To-dos: A great alternative to rememberthemilk.com with alerts in
Timer: Need not run to your cupboard to pick your stopwatch up with the timer feature in Epic browser
Get directions with epic maps – Google maps integration
Search for jobs – with indeed.co.in integration
Book tickets with yatra and cleartrip integration
Games: Time for some entertainment
Backup files by logging in to your gmail account and now, initially, each file size is limited to 10 MB mark. It is expected to increase soon
Collections: Save similar websites to one collection by clicking the collection icon next to the tabs. To load them, open the collections sidebar and click on the collection's title
Bookmarks: Just the same as in Firefox browser, Self-explanatory;
History: Epic is very careful about your privacy, it has a private browsing icon and a clear browsing data icon in the address bar
10,000+ Firefox addons compatible
Epic apps: 1500 sidebar applications, but we recommend you to keep the number of applications minimum so that the blazing speed of Epic will be maintained